Making the most of the space you have and creating a more wildlife friendly garden, are among the predicted trends for 2020.  As our environmental awareness grows, we're seeing a change in the way people utilise their gardens and green spaces.
Urban Greenery
This is an exciting year for Kingston Landscape Group as we see a massive increase in the call for more Urban Greenery.  Property developers and councils
are making Inner-city green open spaces a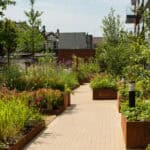 priority.  KLG have been involved with many innovative and creative ways to introduce urban greenery.   Green roofs, sensory gardens, internal courtyards, outdoor gyms, play areas and therapeutic gardens, these are just a few examples our talented   team have worked on.  With new research, innovative techniques and sustainable product designs this year is set to be a very inspiring one for landscapers and gardeners.
Protecting & improving soil quality will be a major focus in 2020.   And let's face it without healthy soil, nothing can grow.  Over the years, changes in environmental conditions, erosion and deforestation have proved to be devastating for the worlds soil, and with soil being essential for human life we think this is a pretty important focus for this year.
Indoor Plants
Another increasing trend is the return of the humble houseplant. Not only do they look great, but a houseplant can be good for your wellbeing.  Did you know Kingston Landscape group have two nurseries as part of our family?  The Otter Nursery and Sempervirens, have a wonderful range of houseplants to suit any size home and budget.
Kingston Landscape Group can help prepare your garden for 2020, by owning two nurseries we guarantee the quality of the plants we install.   So, whether you need just a small plot, a few trees or an entire garden makeover – we have the knowledge and experience needed.  Kingston Landscape Group is also proud to hold ISO 9001 and ISO 14001 certification, a rarity in the landscaping world and shows our dedication to doing the right job.
Contact the Commercial Team
Contact the Domestic Garden Team
Contact our Tree Care Team